PnrGo's mission is to help carriers automate the transfer of PAX and CREW data. We have talked to Trade Air about their experience of using our solutions.
Trade Air Ltd. is a Croatian charter airline established in 1994. It is based in Zagreb and operates flights in Europe, Africa, and the Middle East for various types of clients. Their fleet includes four A320 Airbuses with 180 seats and one A319 Airbus with 144 seats. They specialize in ACMI flights, ad-hoc charter flights, and chains of passenger charter flights, and in working with tour operators. Trade Air operates close to 300 charter flights on a monthly basis. The company lays strong emphasis on safety, reliability, and comfort. Here is what prompted them to use PnrGo and why it proved so successful.
Challenge: complying with EU data transfer regulations
The problem occurred when EU data protection regulations became effective in 2018 and the company had to find a smooth way to process the required PNR and API data, for both pax and crew. The first flights to UK were processed manually by the ground operations team but they quickly realized it would be impossible to manage PNR data transfer for more countries without a system that automates this mundane task.
"We operate flights 24 hours, 7 days a week. Let's imagine a flight scheduled for 10 pm on Saturday," says Petra Koletic, Ground Operations Coordinator at Trade Air. "Somebody would have to wait for the plane to depart and then trigger manually the data send in the system. Our team works office hours so it would be very difficult to implement. We started looking for a solution that would help us automate the whole data transfer process and comply with new regulations without overloading our team."
Solution: automating API and PNR data transfer with PnrGo
Petra and the team started exploring different options and came across PnrGo as a great solution for transferring PNR and API data. They discovered that PnrGo is integrated with Leon Software, a flight management system they use. "This was a huge benefit for us. We needed a connection between the two systems as we didn't want to have two sources of data distribution. With PnrGo, it was all done for us," Petra explains.
According to Petra Koletic, working with PnrGo has been a flawless process. The company requested PnrGo to build some new connections for countries that asked Trade Air to start submitting passenger data. And for all the requests, it was always set up properly without any further due.
"Sending PNR and API data has been a very smooth operation. Passenger Information Units (PIUs) in different countries have always been satisfied with the communication with PnrGo representatives. I don't recall any reported issues from any country," she says.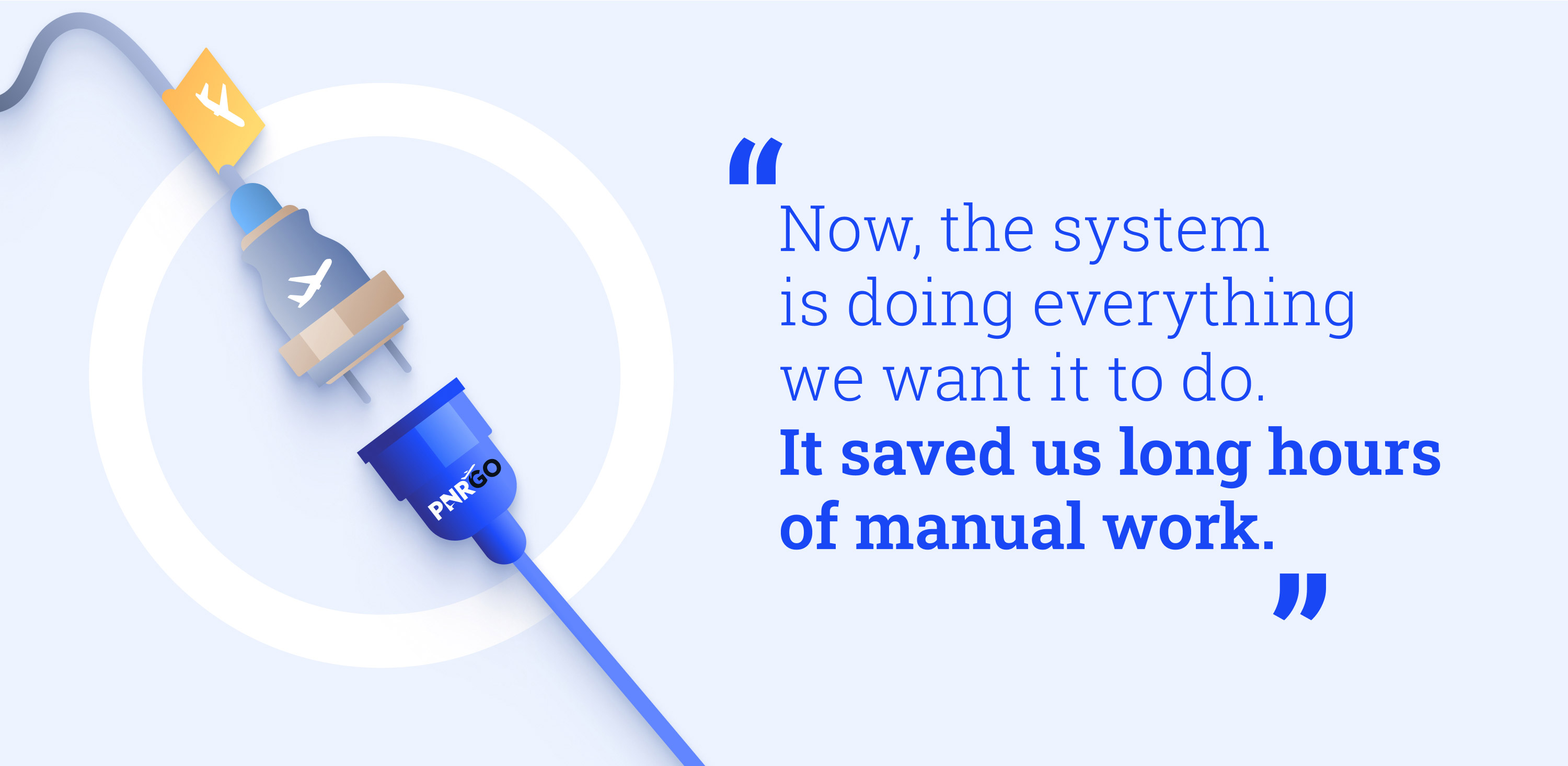 PNL lists distribution use case
The obligation to send PNL lists to ground handlers is another use case where the PnrGo platform turned out to be very helpful. For 3 years, Trade Air had been using a different software provider that was not connected to Leon. First, they needed to manually add flights, create schedules, and collect passenger data from their tour operators. Next, they had to enter the collected data in the software which processed the input into PNL format and sent it further to ground stations.
"This process wasn't efficient and we liked the idea of simplifying it. We learned that we didn't need the third software, because PnrGo and Leon have all the necessary functionalities to make it work. So we started implementing and customizing it to our needs. Now, the system is doing everything we want it to do. It saved us long hours of manual work," Petra says.
Result: saving 60% of daily workload
Petra Koletic admits that using PnrGo system has saved them around 60% of their daily workload. "The work is increasing from month to month and year to year. We needed a tool that would help us manage it. Now, the system is doing everything for us and there will be no need for additional manual work in our department," she explains.
She describes the PnrGo system as easy and user-friendly. What she likes a lot is the attitude of the PnrGo team. "When we suggest ideas or submit requests, the team is always willing to consider and implement them if possible. Tomek, Joanna, and Małgorzata have always been available and very patient with us," Petra recalls. "All in all, thanks to implementing PnrGo, we made our processes easier, less complicated, and cheaper. It was a big step forward and a great relief for our company."

If you are also interested in our time-saving solutions for dispatch, flight, and ground operations teams, contact one of our Sales Representatives to discuss your business needs.