Jetex and PnrGo have recently announced a new partnership. This strategic move brings new service to the table, designed specifically for Jetex customers. To start the new journey, our teams jointly attended the world's largest business aviation event.
The official announcement of the new partnership was published on Jetex's website on 16 October 2023. Thanks to the invitation of Jetex, one day later, our teams were both present in one booth at the NBAA-BACE conference in Las Vegas.
Where business aviation sector is the biggest
The NBAA-BACE is considered the world's largest business aviation event. It comes as no surprise since the USA is still the global leader in private and business jet travel, holding over 60% of the world's Business Aviation fleet (based on the 2022 analysis of industry data by Airbus Corporate Jets). For us at PnrGo, it was an amazing opportunity to look at this market from such a close distance.
The biggest focus of the NBAA-BACE is game-changing innovation that can shape the future of the industry. How do we fit into this picture?
Business aviation in a pickle
There is a growing trend worldwide to strengthen border security and improve immigration management through advanced checking of passenger and crew information. This information is requested and checked in various forms – reported as API and PNR data or verified through various travel permission programs around the world, such as TSA Secure Flight, Canadian PPP, UK ETA, or EES and ETIAS.
Private jet travel makes up only around 4% of the global aviation market, with commercial airlines taking most of the stage. As a result, the regulations imposed on air carriers do not always take into account the singularities of the business aviation sector, which causes occasional hiccups (e.g. some countries require carriers to send their ICAO codes, which not all BA carriers have).
Furthermore, some smaller operators do not always have flight management software. With fast-changing and diverse regulations, it's difficult to manually send your data for every flight, to the right agency and at the required time.
Automation that streamlines compliance
During the conference in Las Vegas, we had many great conversations with both our current customers and prospects from the business aviation industry. And it looks like there is a lot of space for the 'game-changing innovation' that we bring.
PnrGo specializes in PAX and CREW regulations compliance and offers top-notch solutions for automated data transfer, reporting, and vetting. We are a TSA and TC approved data vendor and our services include both the Secure Flight (DHS router) and PPP programs, enabling automated and secure data transfers in the USA and Canada. These solutions have all been built with business and charter operators in mind. On top of that, our Operations team is a strong advocate of business and charter carriers in any communication with border agencies, negotiating solutions for data submission that can be met also by this aviation sector.
Now, our solutions are also available as part of Jetex trip support services! This big step will allow even more carriers to benefit from compliant, stress-free operations in North America, Europe and the Middle East.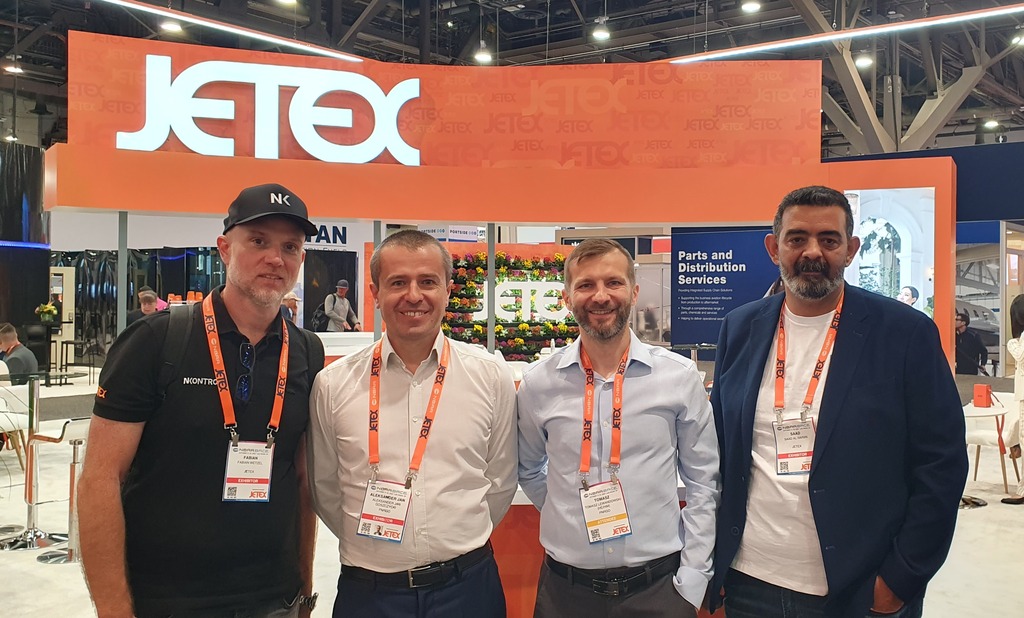 Jetex and PnrGo teams at the NBAA-BACE 2023. From the left: Fabian Wetzel, Director of Integrated Operations at Jetex; Aleksander Goszczycki, Managing Director at PnrGo; Tomasz Lewandowski, Product Owner at PnrGo; Saad Alhariri, Software Developer at Jetex.
About Jetex
An award-winning global leader in executive aviation, Jetex is recognized for delivering flexible, best-in-class trip support solutions to customers worldwide. Jetex provides exceptional private terminals (FBOs), aircraft fueling, ground handling and global trip planning. The company caters to both owners and operators of business jets for corporate, commercial and personal air travel. To find out more about Jetex, visit jetex.com and follow us on Instagram, Twitter, Facebook and LinkedIn.